About us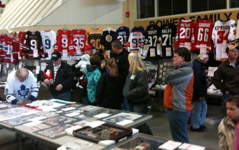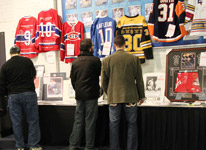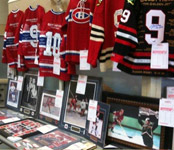 GiantSportsAuction.com is a subsiderary of Autograph Authentic.  We have been directly involved in the sports memorabilia industry for the past 25 years; pioneers of the Sports Collectible Auction.
With our experience, knowledge and reach in the market, we created the concept of GiantSportsAuction.com; a Web site featuring over 6000 items from the best brands and distributors in the industry.  GSA is designed to allow collectors and fans to browse through thousands of items, make offers and bids at the price you want to pay for the collectible!
Browse, Bid, Offer, and WIN with a Piece of History at GiantSportsAuction.com!
Since 1991 Autograph Authentic has conducted auctions of various signed pieces of memorabilia at many promotional events across Canada. Items include jerseys, sticks, pictures, framed lithographs, etc. Highlighted signatures include Hall of Fame Heroes: Bobby Orr, Wayne Gretzky, Bobby Hull, Maurice "Rocket" Richard, Gordie Howe, Guy Lafleur, and friends. We feature current stars such as Sidney Crosby, Alexander Ovechkin, Steve Yzerman, and more. All items are guaranteed with a Certificate of Authenticity. Collectively, we present the finest array of sports merchandise offered in town to date. Autograph Authentic offers guest appearances by many of these legendary players. The presence of some of the heroes generates excitement and the proceeds are enhanced.